SensorPlot™
---
[ SensorPlot Overview ] [ Typical Applications ] [ SensorPlot Specifications ]
[ Hardware/Software Overview ] [ Basic Measurements ] [ Software Download ]
---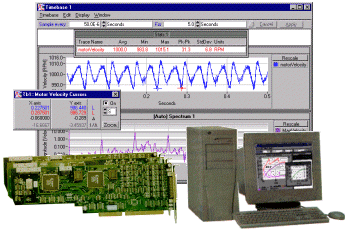 The SensorPlot™ product targets users who need to measure and analyze motion dynamics of mechanical and electromechanical systems. SensorPlot™ consists of a computer running Windows®, specially designed motion capture and analog acquisition cards, and a software application that offers equation-based measurements, a variety of displays, and a complete set of analysis and data exploration tools. SensorPlot™ allows you to make accurate, high-speed measurements of angular/linear position, velocity and acceleration concurrently with analog measurements like voltage, current, torque and vibration. Typical measurements and applications include:
Typical Motion Measurements

Typical Analog Measurements

Dynamic position accuracy
Velocity and acceleration profiles
Servo loop response
Uniformity of motion
Motion repeatability
Mechanical resonance
Transfer functions
Multi-axis motion trajectories
Dynamic motor winding currents
Distance sensors (capacitance, inductive, laser)
Dynamic torque
Pump or piston pressure
Accelerometers and vibration
Unique Features of SensorPlot™
Accurate Measurements of Motion

Digitize angular position, velocity and acceleration using optical incremental encoders
Synchronous analog measurements: voltage, current, pressure, vibration, torque...
Sample based on time or angular/linear position

Integrated Measurement and Analysis

A wealth of analysis tools that support sophisticated data exploration beyond simply acquiring data and displaying it.
Equation based measurements

On-the-fly mathematics
Standard, complex, integration, differentiation, filtering...
Add/edit equations on top of acquired data

Interactive statistics and curve fitting tools
Full-featured interactive spectral analysis

Simple like an oscilloscope

No Programming
Single or multiple displays
Measurement snap shots, variable persistence, accumulate trace minimums, maximums, averages...
---
Euclid Research · 2 North 1st Street, 6th Floor · San Jose, CA 95113-1201
Tel: (408) 283-9020 · Fax: (408) 283-9029